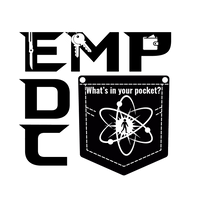 Modern Pocket tools designed by John Rusk
I have always been someone that wanted to carve his own path. Pair that with being an enthusiast / collector of all things EDC, and having a strong drive to turn my fascination into something more. I got to work, learned new skills, and took the plunge. Each piece starts on the artistic side of things, or aim for my design style and elements. Then it must be fun to use, handle, and hold. Last but far from least, the tool must be built to last, & capable of the task it is intended for, having a balance of form and function.
EMPEDC is a small family run business. The best part of this adventure, is working with my family, & being surrounded by a community that is truly supportive, and shares in this strange love for sharp things.
Photos & Facts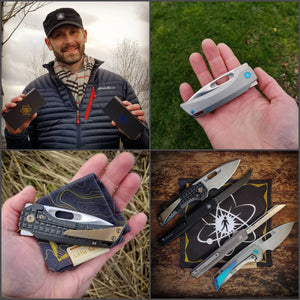 From Collector to Creator
This was the moment I got the 1st two Nymbles in my hands. That smile can never fully express the surreal wonder of holding my 1st folding knife design. For a long time I have found joy in my knives, and EDC tools. Around 3 years ago I decided to try my hand at creating a business around that passion. So I got to work, reached out to successful makers, and found great partners that helped make EMPEDC a reality.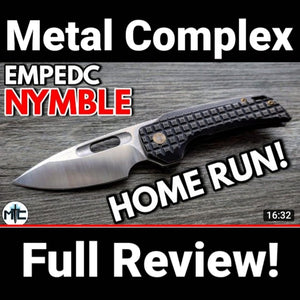 Nymble Full Review by Metal Complex
Click here Metal Complex Nymble Review
It was such an amazing experience to see the reaction to my 1st knife design. Thank you to all my friends, supporters, and reviewers like Metal Complex for helping spread the word and making the Nymble such a huge success!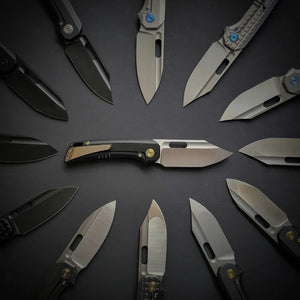 The Relative
The Relative, named for its design element cross over with the Nymble. The Relative is an aggressive, unique, and stylish EDC.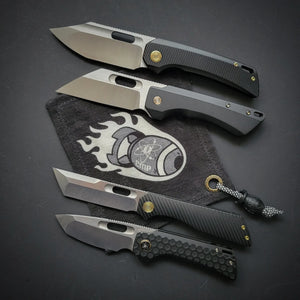 The line up is growing!
We have so much planned for the 2023 year. From the Relative to Ronin, and some suprises along the way. We cant wait to show you what comes next!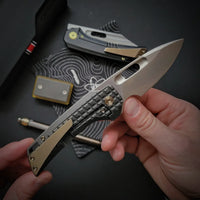 The Nymble:
Taking the time to Design the tools inside and out. Making sure it feels amazing in hand, and takes on the expected task.  With each design we run tests, and prototyping with multiple shops over multiple iterations. Finding not just the perfect build, but also the perfect partner for the project. The belief is, if the time & effort goes in, great things will come out.  The end goal is that each product be bold, and pass the expectations of our supporters!  
The Nymble is my 1st knife, and most popular design. These two facts both humble me, and remind me how crucial it is to follow the process every time, with every project. Quality and Function first, last, and above all else.
Have a Problem? We will make it right!
We stand behind our products, and will always seek to resolve any issues to make it right.  We value our supporters, and will take on the task of delivering the customer service, and products expected of us!
Questions? We are here to help!
Hit the Contact us link below!